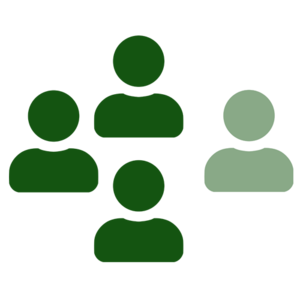 Team coaching is a process support of teams and groups to increase the impact in the roles, tasks and functions within the overall organization. Our coaching structure is based on the triangle of strategy - structure - culture to increase the performance of a team and the individual team members in their roles. When teams keep these three dimensions in a dynamic balance with their leaders, they can successfully develop through self-learning processes.
When you work with us, the coaching process starts with an intensive ACTUAL analysis to clarify the initial situation. This gives managers and teams a stable basis for deciding which goals they want to pursue with the team coaching process. From this, you develop a suitable process and the contents of the team coaching together with us.
Possible occasions for team coaching are:
Cooperation and/or communication problems, also between colleagues and other peers
Problems to fulfill the set requirements and tasks in a flexible, efficient and energy-saving way
Old and formerly successful patterns no longer work effectively - feelings of deadlock and stagnation become widespread
Retreat and resignation: Each team member withdraws into his or her own area, a "silo thinking" develops
Personal sensitivities caused by inhibiting/disturbing emotions act as barriers to factual, professional solutions in day-to-day operations.
A common understanding of the meta-goals is missing; an overriding sense of the team's function is not discernible for the team members
A non-constructive way of dealing with mistakes prevents the team from learning from its mistakes
The operational workload becomes so large that regular rounds of reflection on the quality of cooperation are inadequate
The degree of self-organization is insufficient - a lack of guard rails causes uncertainty and frustration, and the desire for more responsibility and commitment decreases.
The healthy balance between rapid growth and processes and structures that need to be adapted is disturbed
Lack of elasticity in dealing with pressure and stress - caused by stagnation and recession in crises (e.g. Corona)
When team goals are clearly defined, dialog is used to find ways to empower teams and leaders alike to develop effective solutions to achieve them. More choices emerge for more flexible action strategies. These are tested for effectiveness and impact through a kind of trial action in a safe experimental space.
The quality of cooperation and togetherness improves through concrete and verifiable changes in behavior. Step by step, the desired behaviors are identified and joint ways are developed of implementing them in everyday operations. This creates a continuous process that makes it possible to transform obstacles and barriers to implementation along the common path. This is the cornerstone for a development towards a sustainable trusting team culture. Mature teams are characterized by intelligent language in their roles and functions.
Team coaching is not expert consulting, since teams are already their own experts for coherent solution development. Team coaching brings about a new type of rule communication within the team, which is oriented towards both individual and organizational necessities. The success of a team coaching is not only reflected in the increase of performance, but is rather based on a sustainable transformation of the team culture.